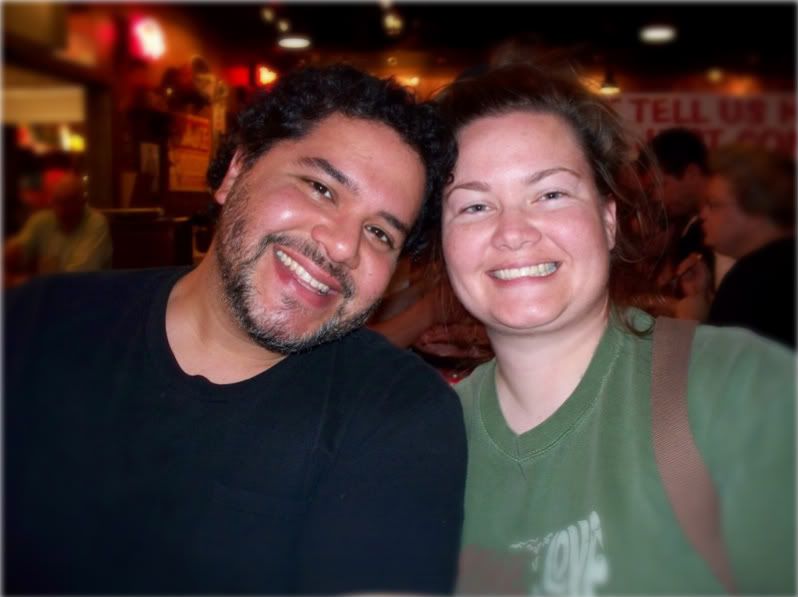 Hello Internet, this is Carl & Sara.
It's been so long since Sara and Carl came and left that I don't know if I can remember everything so clearly. AND I forgot again to transfer the photos to my flash drive so I could post them here from work, you know on my lunch cause I wouldn't post a blog while I'm working silly. Anyway...photos coming soon.
Correction, most photos posted.

So after picking our dearest friends Sara and Carl (
the one's we went to Miami for their wedding
) up from the airport we went out to breakfast, then a quick stop at PetSmart for dog food and treats and headed home. We hung out at our house enjoying the sun in the hammocks until Jory got home, then it was off to the grocery store for supplies.
Later on we met up with Keara at
Famous Daves
in Chandler for dinner, YUMMY!
Keara, Me & Jory
HA HA I'm wearing my "I'm Blogging This" T-shirt.
I didn't notice until now that our shirt selection looks preplanned.
Green in front, Black in the back. HA HA!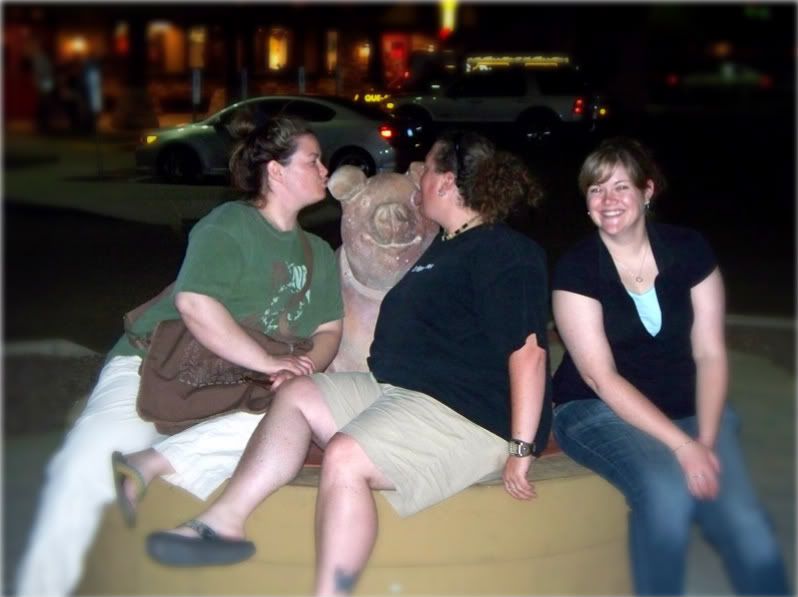 Keara is not givin' the pig any love ;(

On our way out, Carl caught a glimpse of Atomic Comics (he's a HUGE fan, of comics...not a large oscillating wind blower) so of course we had to take a look.
I made this for Carl...

Awe the colorful fountains...like a little Las Vegas experience.
(video coming soon)

An hour later we finally headed for home. Per Sara's request, Rock band Practice commenced. After much persistence both Sara and Carl Rocked Out with their C*cks Out! She for one is certainly addicted! Alcohol intoxication talked me into being the lead singer, they all said I had a Rockin' voice but I'm sure that was their Alcohol talking.

Friday was our lazy day, I think this was the night of our BBQ and more Rock band.
Hey Nerds, with the almost matching shirts ;)
Saturday we ventured out to the Mesa Market Place Swap Meet where we ate lunch. Sara almost convinced me to buy a dress I'd probably never wear, but it was cute. Then we were off to Mill Avenue in Tempe. We stopped in the Hippie Gypsy and despite their Mill Ave (high) Prices, I did end up getting a great deal on some beaded place mats and cup holders (pictures coming soon) and of course replenished my supply of Nag Champa incense.

There was this cute little courtyard with fountains and a gazebo with yet another hippie store full of fun stuff and Graffiti, a former tattoo shop that now sells pipes and a little bit of clothing. Sara found the cutest, most comfortable dress that Carl is sure to hate. Did he not realize until now that he married a hippie? LOL!

After taking a coffee/smoothie break at Borders we decided to head to Chandler for some souvenirs for the house-sitters in Utah. After hitting two grocery stores (where else to you find souvenirs in a city?) we ended up at the Chandler Fashion Center Mall, Red Rock Trading Post. Three T-Shirts and some Salsa later, we all decided to go get tattoos!

We googled Club Tattoo on Jory's phone and headed to the closest one. Meanwhile I'm verifying that I won't be the only one getting inked if we go...Keara said she'd definitely get one and Sara might. Jory and Carl are chickens so they're out. We show up and decide to smoke so everyone (me and Keara) can decide what to get and where to put it. I have so many I've been wanting so I figure Jory and Jack's names on my wrists would be a good choice and quick so we wouldn't lose our FUN momentum. We meander in and ask if they have time for walk-ins, "Sorry no". There's only one guy working and he's busy with a client. I realize this was the weekend of the tattoo convention, Argh!

We wander next door to Trails, another Head shop. They had the koolest glass pipe, sculpted like a break dancer and her boom box which was the stash jar. Super Kool! I wanted to scurry over to The Goat Head Saloon but we were hungry. We headed back home to make some sandwiches since Jory and I didn't bring our medication with us, we are the ol' Fogies of the group. We made sandwiches and sat around the fire pit...ooh the pretty blue flames.
A coworker of mine moved and gave me all his fireplace paraphernalia which included crystals that make your fire turn blue, Trippy!
Since we lost out on getting tattoos, Sara offered to lend her artistic hand and give Keara and I
Henna tattoos
with the kit I compulsively bought while at the Hippie Gypsy. After warming up on my foot and downloading and printing a design on the Internet, Sara dug right in and gave me these:
The big toe started out as a swirly then turned into a lady bug, sorta. You gotta love the puppy paw and the best is the backwards "J"! Obviously the right foot was simply for warm up.
ps...they lasted less then a week.
Sunday morning I dropped them off at the airport as they bid a sad farewell to the sunshine and warm weather. Jory and I spent the rest of the day napping and napping some more.

We had a great time and can't wait to do it all over again another time! We miss you already Sara and Carl!